I have to make this quick, because I've spent all evening walking the streets of Silver Lake to get to a Dodger game and so now it's late and I need to get some good sleep in because I'm going to a Robyn concert right after work tomorrow. What can I say, I live a very busy life. But I wanted to take a minute to tell you about the Panini Garden, because it's one of the best sandwiches you'll ever have.
I used to go there all the time when I worked in Santa Monica, and it always made my day. I went there again on Saturday and remembered all over again why I love it. After I was done, I felt a little drunk. It was just that damn good.
If you choose to eat in, they have a really cute setting in the back that's like a little secret hippie garden. They have a wide selection of paninis and they are all delicious.
My favourite is called the Tacchino. Which is basically a turkey sandwich. I'm also a really big fan of the goat cheese/walnut one. My old co-workers swear by the tuna melt.
Bottom line - give it a shot. You won't be disappointed.
Know before you go:


You have a choice of bread: Rustico, Tramezzino, or Al Forno. Always choose Rustico. It's just so much better, and you can't beat that crunch as you chomp down on your sammie.


If you call in for a pick up, they often get the order wrong, so check it before you leave.


Parking can be a bitch on the weekends, so try to go on a weekday if you can. If not, it's totally worth whatever you pay in parking to get that sandwich.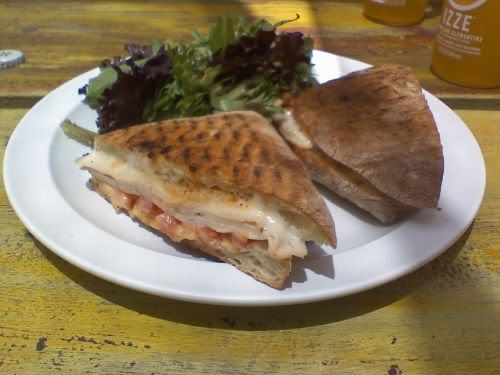 2715 Main Street
Santa Monica, CA 90405-4007
(310) 399-9939
http://www.paninigarden.com/